Mission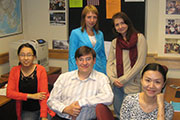 CIRA's Office of International Training (OIT) houses all CIRA-affiliated international training programs. OIT's mission is to provide each international trainee with a coherent, individualized program that prepares the trainee to conduct high-quality HIV prevention research in his or her home country.
Leadership
Director: Robert Heimer, Ph.D.
Deputy Director: Linda Niccolai, Ph.D.
Assistant Director: Annette Ackerman
Current International Fellows
Description
OIT recognizes that each trainee has his or her individual discipline, background, research interests, and scientific career goals. Consequently, our program ensures considerable flexibility, such that the training for each trainee, including course work and research preceptorships, is tailored to his or her interests and needs. Toward this end, each trainee is matched with a faculty mentor according to the trainee's interests. At the same time, certain core training courses, seminars, and other activities are required of all trainees because they are important for all disciplines and areas of interest. These core activities also serve the critical function of bringing our international trainees together as a group so that they learn from each other's considerable experience and expertise. Thus, the training program is cohesive and becomes more than a series of unconnected, individual mentorships.
Trainees typically enroll in Yale courses, participate in ongoing CIRA research projects, and participate in seminars and other scientific activities at CIRA and Yale. In addition, trainees, with guidance from their mentor and other Yale faculty, write research proposals for the conduct of research upon return to their home country.