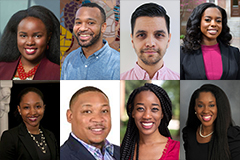 CIRA and the Yale School of Public Health welcome eight junior faculty from around the U.S. appointed to the Research Education Institute for Diverse Scholars (REIDS). REIDS aims to increase the number and impact of racial and ethnic minority researchers dedicated to reducing HIV inequities in communities of color through education and training in cutting-edge biomedical and behavioral research. Scholars attend two consecutive four-week intensive summer institutes at Yale and monthly online professional development seminars for two years.
This year's REIDS Scholars are:
Now in its 10th year, REIDS has trained 33 scholars and supported them to forge independent and impactful research careers in HIV research.
Published: Wednesday, June 3, 2020