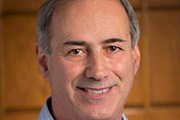 John "Jack" Dovidio recently announced his retirement from Yale after 13 years as Professor of Psychology and Public Health. He also was a CIRA affiliated researcher and served on CIRA's Executive Committee for over 10 years.
Paul Cleary, CIRA Director stated: "Jack has been an incredibly talented and generous member of CIRA. He has consistently provided outstanding advice and guidance in his role on our Advisory committee and has participated extensively and selflessly in multiple mentoring activities. His insight and guidance has had a positive impact of the careers of many young scholars as they have developed their scholarship related to the prevention and amelioration of the impact of the HIV infection."
Dr. Dovidio's work centered around issues of social power and social relations, both between groups and between individuals. He explored both conscious (explicit) and unconscious (implicit) influences on how people think about, feel about, and behave toward others based on group membership and its implications for health and healthcare disparities. He also studied ways for reducing the negative impact of conscious and unconscious biases.
Published: Tuesday, August 4, 2020