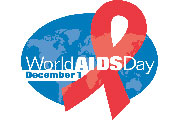 World AIDS Day is a day dedicated by the international community to raise awareness about HIV/AIDS, demonstrate support for those living with HIV/AIDS, and to remember those who have passed. The following is a list of World AIDS Day events happening in CT:
Stamford
Thursday, November 29, 7:00 pm
First United Methodist Church, 42 Cross Street, Stamford
WORLD AIDS Day Interfaith Service
Hartford
Wednesday, November 28, 2:00 pm-4:00 pm
Parker Memorial Community Center, 2621 Main Street, Hartford
Program includes skits by ACT's prevention team followed by short Q&A
Thursday, November 29, 10:30 am-2:00 pm
Connections Wellness Center, 1229 Albany Avenue, 3rd Fl., Hartford
Program includes skits by ACT's prevention team, testimonials, and piano recital.
Friday, November 30, 5:30 pm-8:30 pm
The Artists Collective, 1200 Albany Avenue, Hartford
Hartford Commits to U=U
New Haven
Tuesday, November 27, 11:00 am
Special World AIDS Day Podcast: HIV/AIDS experts Drs. Gregg Gonsalves and Yusuf Ransome will discuss the epidemic and its future in advance of World AIDS Day on Dateline New Haven with Paul J. Bass. Tune in at WNHHLP or watch the livestream on Facebook: https://www.facebook.com/NewHavenIndependent/.
Saturday, December 1, 1:00 pm-4:00 pm
Leeway, 40 Albert Street, New Haven
This event will feature both written word and visual art by local youth.
Published: Monday, November 26, 2018