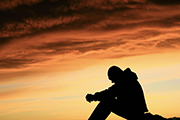 Social distancing is a public health measure to help curb the spread of COVID-19, but it presents unique challenges to people with alcohol or other substance use disorders. In treatment and recovery, people rely on the support of in-person groups (including Alcoholics Anonymous and Narcotics Anonymous) or may need to visit a clinic that dispenses medication, such as methadone, daily or several times a week.
Also, it's often true that even beyond the supportive face-to-face interactions, the structure of a daily routine is important in preventing relapse, says David Fiellin, MD, director of the Yale Program in Addiction Medicine.
"Many are now facing changes in their work schedules, childcare, and family responsibilities. They may also have increased idle time," he says. "All of that, in addition to the stress and anxiety people may be feeling right now, and their potential isolation, can be threats to individuals with substance and alcohol use disorders."
Published: Monday, April 20, 2020