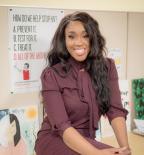 Roles:
Assistant Professor of Social Work, School of Social Welfare, SUNY Stony Brook University
Fellow, Research Education Institute for Diverse Scholars (REIDS)
Biography:
Dr. Opara's current program of research involves using strengths-based approaches to HIV/AIDS, STI, and drug use prevention for adolescent girls of color. Her research highlights the strengths in families of color and promotes cultural and social protective factors for girls and women of color. Dr. Opara is a sought out speaker on the topic of youth substance abuse and using empowerment to achieve health equity. Dr. Opara is also a licensed social worker and has worked as a youth and family therapist for Black and Hispanic families with a special focus on using culturally appropriate and race and gender specific interventions. Dr. Opara has previously received funding from the Centers of Disease Control & Prevention, National Institute on Drug Abuse, and Substance Abuse and Mental Health Services Administration to support her work on improving health outcomes for adolescents of color. Dr. Opara will use REIDS funding to pilot test a racial and gender specific HIV/AIDS, STI, and drug use prevention intervention for Black urban girls. Dr. Opara's REIDS mentor is Dr. Barbara Guthrie.
Website: www.ijeomaopara.com