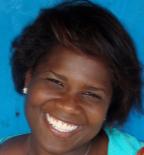 Roles:
Assistant Professor, University of Alabama, School of Social Work
Fellow, Research Education Institute for Diverse Scholars (REIDS)
Biography:
Dr. Karen Johnson is an Assistant Professor at the University of Alabama, School of Social Work. She received her Ph.D. from Columbia University School of Social Work and completed post-doctoral training in Global Mental Health and Implementation Science from Columbia / New York State Psychiatric Institute. Dr. Johnson is an affiliate with the University of Alabama at Birmingham Center for AIDS Research and a UAB National Institutes of Health funded Minority Health and Health Disparities research fellow.
Dr. Johnson's research explores historical, cultural, and contextual factors (e.g. trauma, oppression, religiosity, stigma, place) that drives sexual risk behaviors in Black women in the criminal justice system in the Northeast and the deep South. Her work specifically focuses on 1) decreasing HIV/sexual risk behaviors and co-occurring risks among justice-involved, drug-using women across the life course; 2) evidence-based intervention adaptation, acculturation, and implementation; and 3) peer-led interventions. Dr. Johnson has served as a co-investigator and led NIH and Substance Abuse and Mental Health Services Administration funded intervention adaptation and implementation studies. She is a NYS Office of Mental Health Policy Scholar, a UA Center on Community-Based Partnerships fellowship awardee, and has designed/implemented four IS-focused pilot studies.