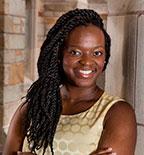 Roles:
Ph.D. Student, Yale School of Public Health
Former Predoctoral Fellow, CIRA
Biography:
Tiara C. Willie is a former predoctoral fellow in CIRA's NIMH Interdisciplinary HIV Prevention Training Program and is currently working on her Ph.D. in Chronic Disease Epidemiology at the Yale School of Public Health. She earned her B.S. in Biology at the University of North Carolina at Chapel Hill and her M.A. in Women's Studies at Southern Connecticut State University and. Her master's thesis, My Existence is My Activism: Evaluating the Self-Manifestation of Strength amongst Women Experiencing Intimate Partner Violence, used empowerment theory to examine women's perceived strength and locus of control among community women experiencing intimate partner violence.
Her research examines the etiology and health consequences of gender-based violence (GBV) among populations at risk or currently experience violence, domestically and globally. This research investigates individual-, relationship-, community-, and societal-level determinants of GBV victimization and perpetration in order to develop primary interventions. This research also examines the impact of GBV victimization on mental, sexual, and reproductive health. This work aims to better understand mechanisms linking GBV victimization and poor mental, sexual, and reproductive health in order to develop effective, evidence-based secondary and tertiary interventions. Her dissertation research focuses on understanding the impact of intimate partner violence on women's engagement in pre-exposure prophylaxis (PrEP) care continuum (NIH Reporter). Her mentor is Dr. Trace Kershaw.
Tiara worked as a Research Assistant at the Yale School of Medicine from 2012-2014. In her position, she supported federally funded projects designed to examine individual-level and structural-level factors that impact the health of women experiencing intimate partner violence including sexual risk, HIV vulnerability, and depression. Prior to moving to New Haven, she lived in North Carolina where she was involved in community-based research in the HIV/AIDS service community.