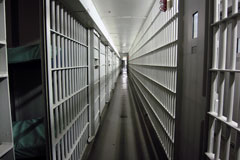 CIRA formed the Criminalization of HIV Exposure Work Group in July 2010 under the previous Law, Policy and Ethics Core whose functions are now integrated across the Center. The purposes of this multidisciplinary collaboration of policy makers, advocates, researchers, public health officials, and other relevant stakeholders are to examine critical public health, ethical, and legal issues around criminalization, discuss the ethical and public health implications of the criminal law, and develop research questions pertaining to criminalization of HIV non-disclosure, exposure and transmission in North America.
Current work group members:
Aziza Ahmed - Northeastern University School of Law
Scott Burris - Temple University, Beasley School of Law
Mandeep Dhaliwal - Global Commission on HIV and the Law, United Nations Development Programme
Jean-Laurent Domingue - School of Nursing, University of Ottawa
E. Jennifer Edelman - Yale School of Medicine
Derek Evans - University of Connecticut Health Center
Carrie Foote - School of Liberal Arts, Indiana University-Purdue University
Anna Forbes - Independent Consultant
Carol Galletly - Center for AIDS Intervention Research, Medical College of Wisconsin
Catherine Hanssens - Center for HIV Law and Policy
Dini Harsono - Center for Interdisciplinary Research on AIDS, Yale University
Amira Hasenbush - The Wiliams Institute, UCLA School of Law
Taylor Henley - Yale Law School
Ryane Hill - Hamilton County Public Health, Ohio
Trevor Hoppe - SUNY University at Albany, Sociology
Heidi Jenkins - Connecticut Department of Public Health
Kaveh Khoshnood - Yale School of Public Health
David LaBahn - Association of Prosecuting Attorneys
Shawn Lang - AIDS Connecticut
Stephen Latham - Yale Interdisciplinary Center for Bioethics
Zita Lazzarini - University of Connecticut Health Center
Robert J. Levine - Yale School of Medicine
Alice Miller - Yale Law School
Terrance Moore – National Alliance of State & Territorial AIDS Directors
Eric Mykhalovskiy - Department of Sociology, York University, Toronto
Adedotun Ogunbajo - Brown University School of Public Health
Elaine O'Keefe - Center for Interdisciplinary Research on AIDS, Yale University
Jim Pettinelli - Center for Interdisciplinary Research on AIDS, Yale University
J. Craig Phillips - School of Nursing, University of Ottawa
Steven Pinkerton - Center for AIDS Intervention Research, Medical College of Wisconsin
Christine Ricardo - Yale Global Health Justice Partnership
Michael Ulrich - Boston University School of Public Health
Kristen Underhill - Columbia Law School
Gretchen Weiss - National Association of County and City Health Officials
Membership:
CIRA's Criminalization of HIV Exposure Work Group is open to all who are interested. Nomination from current members is preferred. For more information, please contact Dini Harsono.
2011 Work Session:
CIRA hosted a Research Agenda Setting Work Session on November 3 and 4, 2011. The work session aimed to articulate a research agenda around HIV criminalization drawing on the expertise of relevant stakeholders. Work group members collaborated to carry out a number of activities and initiatives following the work session:
Maintained a working annotated bibliography that provides an overview of literature on ethical, policy, legal, and public health issues relating to criminalization (published in Feb 2012)
Published a research and policy agenda (Lazzarini et al. Am J Public Health. 2013 Aug;103(8):1350-1353)
Developed research proposals addressing critical research questions (Latham, S., Galletly, C. and Lazzarini, Z.)
Published a literature review of empirical studies on criminalization in the United States (Harsono et al. AIDS Behav. 2016 Sep 7)
Developed prosecutorial guidelines and convened prosecutors roundtable (lead by Hanssens, C. and LaBahn, D.)
2013 Work Session:
On June 6-7, 2013, CIRA hosted the second in-person work session themed Advancing the Research Agenda and Emerging Issues. Work group members and invited participants reviewed the work group's productivity and discussed emerging issues relevant to the impact of criminalization of HIV exposure on public health and HIV prevention efforts. Following the meeting, the group's activities were focused on two key topics:
Practices and ethical issues around expanded use of HIV surveillance data

Overlap of 4 areas of criminal laws (sex offender registration, sex work, HIV exposure criminalization, civil commitment provision).
2016 Work Session:
The third in-person work session was held at CIRA on April 7-8, 2016 and attended by 27 participants from the U.S. and Canada. Over the course of the two-day meeting, the group reviewed the current status of research, policy, advocacy and laws on HIV exposure and non-disclosure in North America, developed priorities for future work with emphasis on additional research to impact the continuing morass of legal and public health issues surrounding these laws, and identified opportunities for research and other collaboration. The Work Session closed with a public forum featuring presentations on criminalization as a women's issue, nurses' knowledge of criminalization laws in North America, the racialization of HIV criminalization in mainstream media in Canada, and restoring science in public health law.