The application cycle for the 2022-23 Y-APT cohort is closed. Thanks to everyone who applied.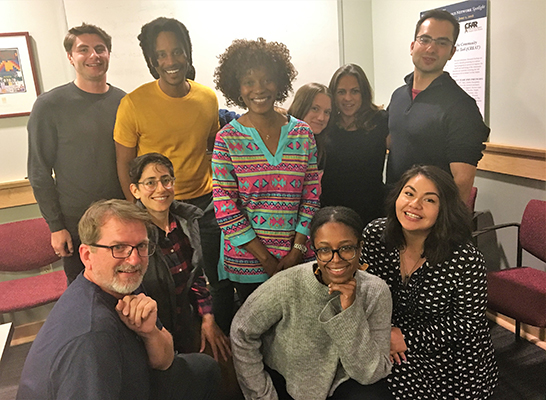 About Yale AIDS Prevention Training Program
A primary objective of CIRA is to train the next generation of HIV/AIDS scientists. To accomplish this goal, CIRA established the NIMH Interdisciplinary HIV Prevention Training Program in 1999. Yale AIDS Prevention Training Program (Y-APT) fully integrates both Pre- and Post-Doctoral Fellows into all aspects of the program, with a unique training focus on professional development, setting clear expectations for scholarly research productivity, the establishment of a program of research, and the creation of professional identity in preparation for an academic career.
Y-APT is open to post-doctoral scholars with PhD, MD, and/or JD degrees who are US Citizens, Non-Citizen Nationals of the United States or Permanent Residents.
Y-APT also supports 3-4 pre-doctoral fellows annually (tuition & stipend). Fellows complete formal coursework, qualifying examinations, and the doctoral dissertation in the Yale School of Public Health. Yale University will award the Ph.D. upon successful completion of the program. Learn more about the PhD program here.
Y-APT Fellows engage in interdisciplinary collaboration and research to improve social justice and health equity in HIV outcomes and research, specifically through biomedical and behavioral approaches to improve: (1) the HIV prevention continuum; (2) HIV-related comorbidities such as substance use, mental health; and (3) violence and health equity of vulnerable and marginalized populations such as sexual and gender minorities, women of color, and incarcerated populations.
We seek to build the Fellows' professional and research network through mentoring, connections with current and former Fellows, integration with other training grants at Yale, and connecting with community partners.
Fellows are trained within CIRA, working closely with a research preceptor from among CIRA's 31 Primary Training Faculty members. Fellows are expected to write articles for publications, present findings of their own research at scientific conferences, prepare a grant application in an HIV-related area, develop and monitor their individual training plan, and be involved in the active research of their Mentors.
Postdoctoral applicants are required to submit:
Applicant Statement (maximum 2 pages) describing:

Your previous work relevant to your program of research;
Your program of research and goals for the next 5 years; and
Your rationale for selecting the first and second choice mentor that you consider to be the best match to your work.

Curriculum Vitae, including grants and publications
Names and contact information for three academic references
Learn more about our current mentors. More information about the CIRA fellowship is available here. For more information on Y-APT, please contact Trace Kershaw (trace.kershaw@yale.edu).
Current Leadership and Fellows
Leadership
| | |
| --- | --- |
| Postdoctoral Fellows | Pre-Doctoral Fellows |