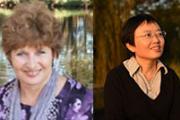 CIRA hosted two international HIV scholars in April 2018 as part of the third International Visiting Fellow Program that aims to support collaborative HIV research endeavors with CIRA faculty hosts and facilitate new collaborations with others in CIRA's HIV research community. Following the visit, the international fellows and their faculty hosts jointly submit reports highlighting the accomplishments/impact of visit and plans to continue collaborations and advance specific projects. CIRA will continue to support their collaborative activities in the 18-month period after the visit.
Dr. Maretha Visser (University of Pretoria, South Africa) and Dr. Yifei Hu (Capital Medical University, China) presented their work at the International HIV Seminar Series, attended by CIRA investigators, research staff, community partners and training fellows. The videos of the presentations are now available on YouTube.
Contact Dini Harsono (dini.harsono@yale.edu) with any questions about CIRA's International Visiting Fellow Program.
Published: Monday, May 7, 2018