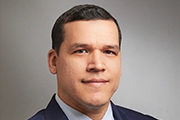 Effective June 1, 2020, CIRA welcomed Raul U. Hernandez-Ramirez as Associate Director of the Interdisciplinary Research Methods Core within CIRA. His primary role is Associate Research Scientist in Biostatistics at the Center for Methods in Implementation and Prevention Science within Yale School of Public Health.
Dr. Hernandez-Ramirez is interested in conducting implementation research in HIV/AIDS and in cancer. His current research focuses on developing and applying statistical methods for the design and evaluation of large HIV prevention interventions, and to account for exposure uncertainty in environmental health studies. He completed a PhD in Public Health (Chronic Disease Epidemiology) at Yale and conducted part of his doctoral dissertation research as a predoctoral visiting fellow at the National Cancer Institute (NCI). His previous research at Yale and the NCI focused on studying cancer risk in people living with HIV in the US and Canada. Before coming to Yale, he gained substantial research experience in nutrition, environment health, and cancer at the National Institute of Public Health of Mexico. He previously obtained a MSc in Epidemiology and a BSc in Nutrition.
Dr. Hernandez-Ramirez assumed this role at CIRA upon the retirement of Russell "Skip" Barbour after a longstanding career at CIRA and Yale.
Published: Tuesday, June 16, 2020