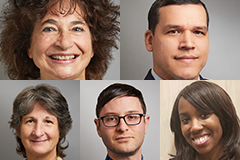 Yale School of Public Health (YSPH) Professor, Director of the Center for Methods in Implementation and Prevention Science (CMIPS) and Director of CIRA's Interdisciplinary Research Core, Dr. Donna Spiegelman, ScD, was awarded an Implementation Science (IS) Consultation Hub Supplement by the National Institutes of Health (NIH) as part of the NIH's overall effort to support research to enhance the implementation science knowledge base needed for Ending the HIV Epidemic: A Plan for America (EHE). The supplement, awarded in September 2020, is titled R3EDI: Rigorous, Rapid, & Relevant Evidence aDaptation & Implementation to Ending the HIV Epidemic.
R3EDI will provide technical assistance on IS designs, frameworks, strategies, measures and outcomes through coaching, training, and consultative services to EHE project teams working in priority communities around the United States. The hub has been assigned 7 specific projects, listed below, each of which is addressing specific pillars of the EHE campaign in the areas of diagnosis, prevention and treatment. Through this work we expect to collaboratively engage in translating local knowledge from specific projects into more generalizable knowledge, strengthening the evidence base for scaling up efforts to end the HIV epidemic.
Evaluating the Healthix Bottom Up Strategy in New York City Using an Implementation Science Framework; Project Director (PD): McKaylee Robertson; Implementing Partner (IP): Housing Works; Affiliation: Einstein/Rockefeller/CUNY CFAR – Harris Goldstein (PI); Jurisdiction: New York City
Faith in Action: Clergy and Community Health Center Implementation Strategies for Ending the Epidemic in Mississippi and Arkansas; PD: Amy Nunn; IP: ARcare and Open Door; Affiliation: Providence/Boston CFAR – Susan Cu-Uvin (PI); Jurisdiction: Mississippi and Arkansas
Evaluation of An Emergency Implemented Telemedicine Intervention, its Acceptability and Impact on HIV Care and Treatment Among Persons Living with HIV; PD: Claudia Hawkins; IP: Howard Brown Health; Affiliation: Third Coast CFAR – Richard D'Aquila (PI); Jurisdiction: Cook County, Illinois
Integrating High-intensity Re-engagement into Routine Health Department Services in MS; PD: Christine Khosropour; IP: Mississippi State Department of Health; Affiliation: UW CFAR – Jared Baeten (PI); Jurisdiction: Mississippi
Patient-Focused PrEP Management to Increase Coverage for Highest Priority Patients in Primary Care in a High Prevalence Jurisdiction; PD: Viraj Patel; IP: Montefiore Health System – Montefiore Prevention Program; Affiliation: Einstein/Rockefeller/CUNY CFAR – Harris Goldstein (PI); Jurisdiction: Bronx County, NY
Clinical Decision Support for PrEP; PD: Julia Marcus and Douglas Krakower; IP: Jefferson County Department of Public Health; Affiliation: Harvard CFAR – Rajesh Gandhi (PI); Jurisdiction: Alabama
Evaluating Implementation Strategies of Behavioral Health Integration intoHIV Prevention and Care including Telehealth; PD: Robert Remien and Claude Ann Mellins; IP: Northeast/Caribbean AIDS Education and Training Center; Affiliation: HIV Center for Clinical and Behavioral Studies- Robert Remien (PI); Jurisdiction: Essex County, New Jersey
Other key personnel include:
The hub team's areas of expertise include IS methods, frameworks, strategies, measures and outcomes; HIV/AIDS research and study design; management of experimental and observational IS studies; and data collection, sampling; quantitative, qualitative, and mixed-methods analytic approaches; partnership formation, and community-based participatory research. The team plans to draw on the expertise of other faculty as needed, both CIRA affiliated and more broadly, with an initial list of collaborating investigators, together with their areas of expertise, below:
According to Dr. Donna Spiegelman, "We are thrilled to have been given this opportunity to partner with front-line community-based organizations around the country, to put our technical skills to work in a collaborative effort to end the AIDS epidemic in this country. Yale's rich environment of public health professionals experienced with our most pressing needs made it possible to quickly pull together a superb team."
Published: Tuesday, November 10, 2020