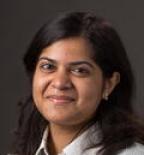 Roles:
Assistant Professor, Department of Communication, SUNY at Albany
Member, Interdisciplinary Research Methods Core, CIRA
(518) 442-3239
Biography:
Archana Krishnan is Assistant Professor in the Department of Communication, State University of New York at Albany. Her previous appointment was as a Postdoctoral Research Associate in the Yale School of Medicine, Department of Internal Medicine, AIDS Program under the mentorship of Dr. Frederick L. Altice. She holds a PhD in Communication Sciences with specialization in communication technology. Her expertise is in examining trends in new media and implementing mobile technology to assess health management behaviors. She also has advanced statistical skills including multiple regression, structural equation modeling and longitudinal panel analysis. Dr. Krishnan was principal investigator on a pilot study funded through a fellows grant from Bristol-Myers Squibb, to study the effect of text messaging reminders on retention in HIV and substance abuse care. She has presented at several national and international academic conferences and authored peer-reviewed papers in the areas of social media, mHealth, infectious diseases, and substance use disorders. In addition to her research, Dr. Krishnan has provided mentorship to Yale University students working on summer research fellowships at study sites in Southeast Asia and South America.