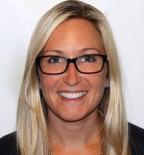 Roles:
Assistant Professor of Behavioral and Social Sciences and Assistant Professor of Epidemiology, Brown University School of Public Health
Former Predoctoral Fellow, CIRA
Biography:
Jaclyn M. White Hughto is a former predoctoral fellow in CIRA's NIMH Interdisciplinary HIV Prevention Training Program and a doctoral student in Chronic Disease Epidemiology at the Yale School of Public Health. Her research interests include identifying the social, spatial and individual-level risk factors driving health inequities in sexual and gender minorities. She is also interested in identifying behavioral intervention strategies and methods to disseminate biomedical interventions to reduce adverse sexual and psychosocial health outcomes in at-risk populations. Her dissertation research focuses on eliminating mental and physical health disparities among criminally-justice involved transgender women.
She has worked at Fenway Health in Boston since 2010 managing and conducting epidemiological and behavioral interventions with diverse LGBT populations including a multi-site R01 testing a behavioral HIV prevention intervention for young transgender women ("LifeSkills"; PIs: Mimiaga and Garofalo; R01 MH094323-01A) and an R34 to reduce crystal methamphetamine use, depression and sexual risk behavior among men who have sex with men ("Project IMPACT"; PI: Mimiaga; R34 DA031028-01). She also served as the primary research analyst for numerous projects, including a mixed-methods content analysis of an MSM sex-seeking website, a repeated measures analysis of physicians' knowledge of pre-exposure prophylaxis (PrEP) before and after the release of clinical trial data; and a moderation analysis examining the effects of bisexual behavior on the sexual health of high-school females using state surveillance data. She is currently a research analyst for a Patient-Center Outcomes Research Institute-funded (PCORI) study (PI: Reisner; CER-1403-12625) evaluating the acceptability and efficacy of utilizing self- vs. provider-swabs for HPV testing in transgender men.

Mrs. White Hughto earned her MPH from the Rollins School of Public Health at Emory University where she concentrated in Behavioral Science and Health Education with a focus on LGBT health, mental health, and HIV prevention. She earned a Bachelor's degree in Psychology from Boston University.
Selected Publications:
White, J.M., Reisner, S.L. & Pachankis, J. (2015) Transgender stigma and health: A critical review of stigma determinants, mechanisms, and interventions. Social, Science and Medicine, ahead of print.
White Hughto, J.M., Reisner, S.L., & Mimiaga, M.J. (2015) Characteristics of transgender residents of Massachusetts' cities with high HIV prevalence. American Journal of Public Health, e1-e5.
White, J.M., Dunham, E., Rowley, B.R., Reisner, S.L., & Mimiaga, M.J. (2015) Sexually explicit racialised media targeting men who have sex with men online: A content analysis of high-risk behaviour depicted in online advertisements. Culture, Health and Sexuality, 17(8), 1-14.
White, J.M., Gordon, J., & Mimiaga, M.J. (2014) Considering the role of substance use and mental health problems in medication adherence among HIV-infected MSM. LGBT Health, 1(4), 319-322.
White, J. M., Reisner, S. L., Dunham, E., & Mimiaga, M. J. (2014). Race-Based sexual preferences in a sample of online profiles of urban men seeking sex with men. Journal of Urban Health, 91(4), 768-775.
White, J.M., Mimiaga, M. J., Krakower, D. S., & Mayer, K. H. (2012). Evolution of Massachusetts physician attitudes, knowledge and experience regarding the use of antiretrovirals for HIV prevention. AIDS Patient Care and STDs, 26(7), 395-405.
For a full list of publications see: https://www.researchgate.net/profile/Jaclyn_Hughto