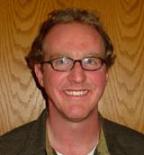 Roles:
Assistant Director, Information & Research Technology, CIRA
Biography:
Pete Donohue is the Assistant Director, Information and Research Technology at CIRA. He is responsible for directing all IT-related matters of the Center including web, database, software/hardware, social media, podcasting and video conferencing.

Before joining CIRA, Mr. Donohue worked as a product manager at weather.com where his main focus was creating weather products that relate to your lifestyle (travel, golf, driving). His earlier work includes positions in sales, print design and television production.

He earned a Bachelor of Arts degree in Communications from Fordham University.