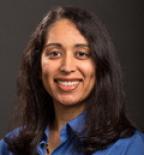 Roles:
Assistant Professor of Medicine (AIDS), Yale School of Medicine
Biography:
Sheela V. Shenoi is an instructor of infectious diseases with the AIDS Program at Yale University School of Medicine. She conducts clinical research on HIV/AIDS and tuberculosis with a focus on resource-limited settings. Dr. Shenoi has worked in South Africa to study the epidemiology of drug resistant tuberculosis and tuberculosis infection control strategies. She currently develops and implements community-based projects that emphasize the integration of HIV and tuberculosis services. Dr. Shenoi works with the Tugela Ferry Care and Research Collaboration in South Africa to improve prevention, care and treatment for patients with HIV/AIDS and tuberculosis. She serves as a member of Yale's Global Health Program committee of the department of medicine.
Dr. Shenoi received her M.P.H. from Tulane University School of Public Health and Tropical Medicine and her M.D. from the University of Connecticut. She is a member of the International AIDS Society, the Infectious Diseases Society of America and the International Union Against Tuberculosis and Lung Disease. Dr. Shenoi was honored as a Fulbright Scholar and was awarded an international clinical research fellowship in global health by the U.S. National Institutes of Health Fogarty International Center for Advanced Study in the Health Sciences.