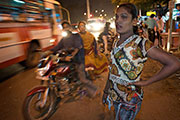 Physical and verbal harassment by policemen don't just psychologically scar transsexuals (transwomen) but also push them to engage in high-risk sexual behaviour that makes them vulnerable to contracting AIDS, interviews with 300 members of the group have revealed. Researchers from three institutes teamed up to trace the pattern of victimisation among such transsexuals in four states, including Tamil Nadu, and studied its impact on their sexual behaviour.
Related Citation:
Willie, T.C., Chakrapani, V., White Hughto, J.M., Kershaw, T.S. (2017) 'Victimization and Human Immunodeficiency Virus-Related Risk Among Transgender Women in India: A Latent Profile Analysis.', Violence and Gender, Dec 1;4(4):121-129. doi: 10.1089/vio.2017.0030.
From the Lead Researcher:
This project resulted from the International Visiting Fellows Program and the beginning structure and analysis for the paper occurred during Dr. Chakrapani's Yale visit. Given mutual interest in the influence of syndemics and violence on HIV risk among vulnerable populations, I conveyed a meeting with T32 predoctoral fellow Tiara Willie and Venkatasen Chakrapni that quickly evolved into the proposed paper.
Published: Friday, January 19, 2018