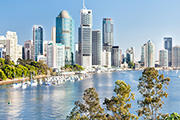 CIRA affiliates will be presenting at the IAS 2023: The 12th IAS Conference on HIV Science taking place in Brisbane, Australia and virtually on July 23-26, 2023. This biennial conference presents the critical advances in basic, clinical, and operational HIV research that move science into policy and practice.
CIRA affiliates will share their contributions to advancing HIV evidence-based research and programs in 5 symposia, 5 oral presentations, 6 poster exhibitions, and 19 e-posters. Click here for the complete list of CIRA presentations at the conference.
For more information about the conference, visit the IAS 2023 website and the conference program.
Published: Wednesday, July 19, 2023