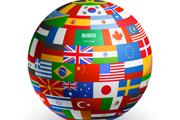 Four HIV researchers will travel to Yale in April 2016 as part of CIRA's Visiting International Fellow Program. The visiting fellows are all actively engaged in HIV research with CIRA affiliated scientists. They will spend their time at Yale working on collaborative HIV research endeavors with their host faculty members and participating in meeting with others in the CIRA community where they will discuss their research and explore new research opportunities. The invited fellows and Yale host faculty include:
Richard Bränström

(Sweden) - John Pachankis (Yale School of Public Health)

Jose Sanchez Fernandez (Peru) - Frederick Altice (Yale School of Medicine)

Veena Pillai (Malaysia) - Jeffrey Wickersham (Yale School of Medicine)

M. Fouad (Lebanon) - Kaveh Khoshnood (Yale School of Public Health)
A seminar featuring presentations by the four visiting fellows will be held on April 19, 2016 at CIRA (further details will follow). Contact Dini Harsono (dini.harsono@yale.edu) with questions about CIRA's Visiting Fellow Program and itinerary.
Published: Sunday, March 20, 2016