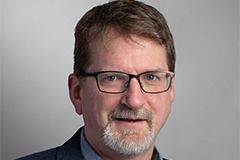 Effective, September 1, 2020, Trace Kershaw, PhD assumed the role of Director and Principal Investigator for CIRA's P30 grant from the National Institute of Mental Health (NIMH). Paul Cleary, PhD. is stepping down after serving 13 years in those roles.
Dr. Kershaw first joined CIRA in 2000 as a postdoctoral fellow in the NIMH Interdisciplinary HIV Prevention Training Program. As he continued to develop his research career at Yale School of Public Health (YSPH), he remained closely affiliated with CIRA and contributed in many ways, including being Director of the Interdisciplinary Research Methods Core, the Development Core, the Yale AIDS Prevention Training (Y-APT) Program, and the Research Education Institute for Diverse Scholars (REIDS) program.
Dr. Kershaw is the Susan Dwight Bliss Professor of Public Health and Chair of the Social and Behavioral Sciences Department at the YSPH with over 20 years of experience conducting complex behavioral and intervention studies to reduce HIV risk and its comorbidities among vulnerable populations. He has extensive methodological and analytic expertise in interventions and implementation science, technology-based assessments, complex designs, and advanced analytic techniques. As Director of CIRA's two training grants, Dr. Kershaw develops comprehensive and innovative programs that include peer review, grant writing, professional development, mentoring, and cutting-edge online communication tools to improve scholarship. He was selected for the YSPH 2009 and 2015 Distinguished Student Mentor award, that recognizes the recipient as a leader in shaping the next generation of public health professionals, and the YSPH Award for Excellence in Teaching. Dr. Kershaw chairs and is a member of three NIH study sections and sits on several editorial and advisory boards.
Dr. Kershaw recently stated, "For the past 13 years, Paul has ensured a rich and productive research environment, including a prodigious record of externally funded research and publications, global research collaborations, vibrant community and institutional partnerships, and broad dissemination of research findings. I hope to continue his tradition of positioning CIRA as a major hub for resources, training, and scientific collaboration opportunities with tangible impact on HIV programs and policies."
Please join us in congratulating Dr. Kershaw on this great achievement.
Published: Tuesday, September 8, 2020