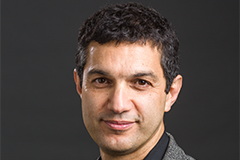 Kaveh Khoshnood, PhD, MPH is an Associate Professor and Director of Undergraduate Studies at the Yale School of Public Health and executive committee member at Yale Council on Middle East Studies. He is co-founder of Yale Violence and Health Study Group and a faculty member of the Program on Conflict, Resiliency and Health at the Yale MacMillan Center. Dr. Khoshnood teaches a course on public health in humanitarian settings and is the faculty director for the Humanitarian Research Lab. He is also a co-chair of the CIRA's HIV/AIDS in Humanitarian Crises program.
This interview originally appeared in the March 2022 HIV/AIDS in Humanitarian Crises newsletter.
Q: Could you throw some light on your research addressing HIV/AIDS in humanitarian settings? A: Tackling the HIV/AIDS epidemic in U.S. and globally was the focus of my scholarly and advocacy work for over 2 decades. In the last 9 year or so, I have become more focused on addressing health of populations affected by armed conflict and decided to bring in the humanitarian lens to my HIV/AIDS work. This work began in Lebanon.
Q: What challenges have you faced while conducting such research? What solutions do you suggest to researchers facing similar challenges? A: Many! The challenges range from political, logistical, ethical, and funding. Conducting research in humanitarian settings, especially on sensitive topics such as HIV/AIDS and with highly vulnerable populations such as refugees and other forced migrants, requires extensive preparation. Engaging with the study participant community, stakeholders, and advocates such as humanitarian organizations is key. It is worth to remember that you don't want to do research in humanitarian settings, unless there are important scientific questions that can only be addressed in such contexts and have the potential to benefit the affected populations.
Q: Today, Ukraine is facing humanitarian crises and the country has the highest burden of HIV/AIDS in Eastern Europe. Could you briefly describe your thoughts on the impact of the ongoing military conflict on public health? What would be the strongest tools that can help support the affected people with HIV and key populations? A: The impact of the ongoing military conflict on HIV/AIDS and other public health issues will be devastating. Many people with HIV/AIDS will lose access to their medications and health care services. Access to HIV testing and other prevention strategies will be reduced or possibly eliminated for a while. Those with substance use disorders and at risk of HIV/AIDS will also lose access treatment and harm reduction programs. The mental health burden will also be huge and can increase the risk of and the burden of HIV/AIDS and other communicable and non-communicable diseases. People with HIV who are able to leave Ukraine and enter a supportive country with good access to health care services and ART medications will do better. The negative effects will be far worse for those who cannot or do not want to leave Ukraine.
Published: Tuesday, May 3, 2022