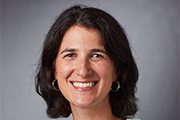 Dr. Jaimie Meyer was awarded a new NIDA R01 grant to implement and evaluate the use of telehealth for PrEP among individuals with substance use disorders. The project, called Athena, aims to improve and scale-up the use of PrEP and treatment for opioid use disorder care cascades for justice-involved women in New Haven, CT and Birmingham, AL by combining a PrEP decision aid developed with eHealth. Dr. Meyer and team are interested in individual clinical outcomes as well as process outcomes important for sustained implementation.
The project involves research teams at Yale University and University of Alabama Birmingham. The study team includes Dr. Jaimie Meyer (PI), Dr. Frederick Altice (Co-Investigator), Dr. Ellen Eaton (Co-Investigator and Site Lead for UAB), Dr. Karen Cropsey (Co-Investigator at UAB), Dr. Tassos Kyriakides (Senior Statistician), Dr. Olya Morozova (Modeler), and Ms. Carolina Price (Program Manager).
CIRA provided an internal peer review prior to the most recent NIH submission of the grant proposal. Congratulations to Dr. Meyer for getting this new grant!
Published: Sunday, September 11, 2022