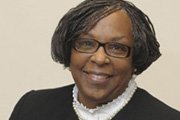 Dr. Barbara Guthrie, former Independence Foundation Professor of Nursing at the Yale School of Nursing, has accepted a new position as Dean of the Graduate School of Nursing at the Northeastern University School of Nursing. Among her new roles will include serving as Director of the Ph.D. program.
Dr. Guthrie will continue to serve as one of the Principal Investigators of the Research Education Institute for Diverse Scholars (REIDS) R25 grant which just entered its fifth year of funding. The 17 current and former REIDS fellows credit their career advancement in large part to the mentoring and training they received through the program. Their accomplishments include: nine of the fellows have received tenure-track faculty appointments at colleges including the University of Pennsylvania and Johns Hopkins; they have successfully competed for federal funding including the prestigious NIH K01 award for career development; and, two REIDS fellows were selected by NIMH to participate in the NIDA Special Populations Research Development Series.
Please join us in wishing Dr. Guthrie tremendous success in her new endeavor.
Published: Tuesday, September 2, 2014