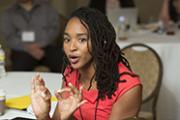 Researcher Chinekwu Obidoa described the REIDS (Research Education Institute for Diverse Scholars) program as "a gateway into a different world, a world of scientific research."
She spoke Wednesday of the validation that REIDS has provided for her development as a young black scientist seeking to enter the typically white-dominated field of HIV/AIDS research. She likened it to a musician getting signed by a record label. The REIDS program, she said, "changes lives."
Now in its sixth year, the program based at the Center for Interdisciplinary Research on AIDS (CIRA) in the Yale School of Public Health seeks to promote the careers of underrepresented scientists. It assists junior faculty who are looking for education, support and mentorship and provides training by some of Yale's top HIV researchers.
More from Yale School of Public Health
Published: Monday, July 18, 2016