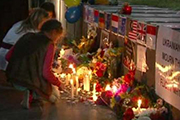 Members of the international HIV research community were in a state of shock after the death of world-renowned scientist Joep Lange and at least several other activists who perished when Malaysia Airlines Flight 17 was shot down Thursday over eastern Ukraine.
In an address to the nation Friday at noon, President Obama said "nearly 100" of those killed -- one third of the 298 people on board -- may have been en route to the 2014 International Aids Conference in Melbourne, which is scheduled to begin this weekend. The White House said the figure came from remarks made by Australian Prime Minister Tony Abbott.
But conference organizers said they have only been able to confirm seven names.
Published: Monday, July 21, 2014