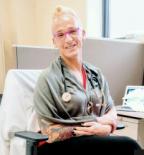 Roles:
Principal Medical Scientist, Gilead Sciences, Inc.
Member, Community Advisory Board, CIRA
Biography:
Dr. AC Demidont specializes in Internal Medicine, Infectious Diseases, HIV Medicine, and the care of adolescent and adult Trans and Gender Diverse individuals. In the past, Dr. Demidont worked in esteemed health centers such as St Lukes Roosevelt Medical Center in NYC, and at the nationally-renowned LGBTQ health center, Callen-Lorde Community Health Center in NYC. Dr. Demidont is living her lifetime commitment to play a core role in improving the quality of life of underserved and marginalized populations. Her passion is in caring for adolescents and adults in the Gay, Lesbian, Bisexual and Transgender communities.
Dr. Demidont has a strong STI and HIV prevention mission, and works on several state and national workgroups to enhance utilization of antiretrovirals as both Pre and Post Exposure Prophylaxis for HIV. She advocates for nonjudgmental HIV and sexually transmitted diseases screenings for LGBQ and Transgender adolescents and adults, with a strong belief that STI screening should be a process in which all people feel comfortable, understood, and valued.
Dr. Demidont also specializes in working with Trans and Gender Diverse individuals ages thirteen and older. She provides gender-affirming hormone therapy in order to ease and facilitate transition into one's true gender. She happily completes her patient's legal and travel documents, and makes connections between patients and competent gender-affirming surgeons if desired.
Dr. Demidont has a working relationship with several medical centers to assist their efforts toward improving care practices for gender diverse individuals. Dr. Demidont is a member of the World Professional Association for Transgender Healthcare (WPATH). She lectures locally nationally and internationally on the care of Gender Diverse individuals regularly and lectures for the Connecticut Department of Public Health on HIV prevention strategies as well the New England AIDS Education and Training Center regarding culturally competent care for Transgender and Gender Non-conforming individuals. She lectured internationally with International Planned Parenthood on ways to improve healthcare for the LGBQ and Transgender communities.
She currently is an Assistant Clinical Professor of Medicine at Quinnipiac University's Frank H. Netter School of Medicine as well as Yale University's School of Nursing. She serves as a member of Yale University's Center for Interdisciplinary Research on AIDS Community Advisory Board and the New England Implementation Science Network.
On a personal note, Dr. Demidont is a long-time member of the queer and TGNC community and activist for LGBTQIA rights. She lives a deeply spiritual life and is very active in modern and ancient spiritual practices which she incorporates daily into her medical practice. In her free time she enjoys long-distance running, developing a deep spiritual connection with nature and the universe, practicing Bikram Yoga and spending time at home with her partner, her three puppies and colony of sugar gliders.