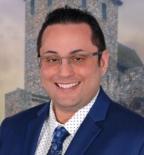 Roles:
Doctoral Candidate, Social Work, University of Connecticut
Member, Community Advisory Board, CIRA
Biography:
For over a decade, Alberto Cifuentes, Jr., LMSW, has been a community organizer and social justice advocate for underrepresented and marginalized populations, including LGBTQ+ individuals, undocumented immigrants, and returning citizens. He has been an active leader of several non-profit organizations, such as the National Association of Social Workers Connecticut Chapter (NASW/CT) and GLSEN Connecticut.
Alberto is a Health Policy Research Scholar (HPRS), a Robert Wood Johnson Foundation fellowship supporting doctoral students whose research and leadership advances policy towards a Culture of Health. Alberto's research focuses on developing inclusive and equitable policies and practices for consensual sex workers, those that willingly participate in the sex trade. His dissertation will explore the effects of stigma and criminalization on the health outcomes of consensual sex workers using a sex-positive, harm reduction approach. His ultimate goal is to direct an organization that will increase access to vital services and programs for consensual sex workers.