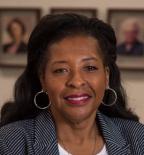 Roles:
Dean and Professor, College of Nursing at Prairie View A&M University
Former Fellow, Research Education Institute for Diverse Scholars (REIDS)
Biography:
Allyssa L. Harris, Ph.D, RN, WHNP-BC is the Department Chair and an Associate Professor at the Connell School of Nursing. She is a certified women's health nurse practitioner with over 20 years of experience. Dr. Harris teaches advanced practice women's health nursing and theoretical foundations in women's health and pediatric nursing as well as provides guest lectures in advanced practice pharmacology and research. In January 2017, Dr. Harris became the Director of the Women's Health NP program. Her research focuses on sexual risk behaviors particularly among adolescents including parent-adolescent sexual communication and media influences on sexual Dr. Harris has numerous publications related to parent-child communication, media influences of sexual risk, and women's health conditions. She is a member of the New England Regional Black Nurses Association, the National Black Nurses Association, AWHONN, NPWH, Sigma Theta Tau International (STTI) and is currently President of the Alpha Chi Chapter of STTI at CSON.
Dr. Harris' current research involves examining adolescent sexual risk behaviors. Her REIDS research focused on understanding African American father-son sexual communication. In addition to these projects her research interests include African American women's health & healthcare policies, and media influences of sexual risk behaviors as well as urban healthcare. Dr. Harris has published a number of articles on Women's Health issues including contraception, and decision-making.