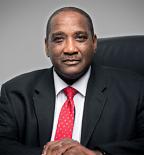 Roles:
Executive Director, NAESM Inc.
Biography:
Prior to working for NAESM, INC. Alvan Quamina was a Section Chief at the City of Berkeley Public Health Division. He was also Executive Director of AIDS Project East Bay and years earlier, of AMASSI, Inc. He has been involved in AIDS advocacy and AIDS work for over two decades.
Dr. Quamina holds a B.A. in Economics from Yale University, a J.D. from University of California, Berkeley, a Ph.D. in nonprofit management from Capella University, and a Master of Public Health degree from San José State University.