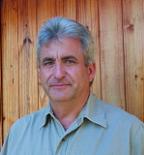 Roles:
Senior Medical Officer, Church of Scotland Hospital (CoSH)
Biography:
Dr. Moll is a Senior Medical Officer at the Church of Scotland Hospital (CoSH) in Tugela Ferry, South Africa, and has been Director of the HIV Clinic since its inception in 1998. He has been a staff physician at CoSH for over 20 years, during which time he has had first-hand experience with three highly-fatal epidemics afflicting the patient population of CoSH: tuberculosis, HIV and now drug-resistant tuberculosis. In 1998, Dr. Moll founded Philanjalo, a non-governmental organization, to address the needs of tuberculosis and HIV patients in Tugela Ferry by providing home-based palliative and treatment support and by creating an inpatient hospice. Dr. Moll has worked closely with TF CARES since 2002, when the first integrated study of TB/HIV co-treatment was initiated in Tugela Ferry.
Dr. Moll is a recognized expert in drug-resistant TB, TB/HIV co-treatment, and TB infection control, and has given numerous international presentations on these topics, including at the World Health Organization and international TB conferences.