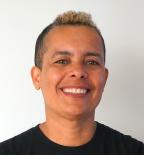 Roles:
Senior Director of Research and Education, Callen-Lorde Community Health Center
Assistant Professor, Epidemiology, Columbia University
Fellow, Research Education Institute for Diverse Scholars (REIDS)
Biography:
Dr. Radix is an infectious disease/HIV specialist at the Callen-Lorde Community Health Center in NYC, a center that predominately cares for LGBTQ communities and people living with HIV. Originally from Grenada, West Indies, Dr. Radix trained in internal medicine and infectious disease at the University of Connecticut and later received an MPhil in epidemiology from Cambridge University. In 2020, he earned a Ph.D. in Epidemiology from Columbia, where his dissertation focused on health care outcomes for transgender individuals who have accessed gender-affirming interventions. Dr. Radix has contributed to multiple national and international guidelines and is currently Co-Chair of the World Professional Association of Transgender Health (WPATH) Standards of Care working group and a member of the HHS Panel on Antiretroviral Guidelines for Adults and Adolescents. He serves as associate editor for Transgender Health and the International Journal of Transgender Health. His research focus is on HIV risk, prevention and care as well as primary care outcomes among transgender and gender diverse individuals, particularly among those who inhabit other marginalized social identities, due to race, ethnicity, immigration status and incarceration. His long-term goals are to develop novel interventions to promote sexual health and HIV prevention for transgender communities. Dr. Radix's REIDS mentor is Dr. John Pachankis.