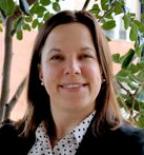 Roles:
Assistant Professor of Biostatistics, Department of Pharmacy Practice, University of Rhode Island
Biography:
Dr. Ashley Buchanan is an Assistant Professor of Biostatistics in the Department of Pharmacy Practice, specializing in the areas of epidemiology and causal inference. She brings over ten years of experience collaborating on HIV/AIDS research working closely with colleagues both domestically and internationally to develop and apply causal methodology to improve treatment and prevention of HIV/AIDS.
More recently, her substantive research area has expanded to studying opioid use disorder employing a variety of "big data" sources, including administrative claims data and the prescription drug monitoring programs. Her current methodological research focuses on the development and application of causal inference methods for network-based studies of HIV treatment and prevention among people who inject drugs.