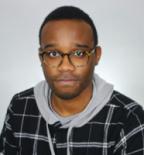 Roles:
Licensed Professional Counselor
Chat4Change v2 co-facilitator
Biography:
Claude Louis is a Licensed Professional Counselor in Connecticut and Virginia and has served in various positions in mental health working with children and adults in inpatient, crisis, outpatient, and group settings, but found his niche in the community mental health setting. Claude has worked with Connecticut community organizations including the Triangle Community Center, The Center for Family Justice, Southwest Community Health Center and most recently APNH: A Place to Nourish your Health. Claude is also an emerging Counseling Psychologist, beginning Loyola Chicago's Counseling Psychology Ph.D. program in 2022. His research area will be quality of mental health treatment for marginalized and oppressed communities, with a focus on barriers to receiving quality mental health treatment, stigmatization of mental health, and how interventions for marginalized and oppressed groups can improve treatment outcomes.
Claude joined CIRA's CAB in 2021 after participating in the CIRA-affiliated project Chat4Change, which involved a community based intervention for increasing PrEP usage amongst black and Latino MSM. Claude subsequently took on a Chat4Change co-facilitator role.