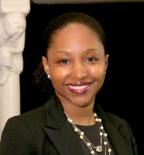 Roles:
Assistant Professor, University of Rochester School of Nursing
Fellow, Research Education Institute for Diverse Scholars (REIDS)
Biography:
Dr. Alcéna-Stiner earned her Masters and Doctoral degrees in Microbiology and Immunology from the University of Rochester, School of Medicine and Dentistry, setting the foundation for research centered on HIV-pathogenesis and prevention. In addition she obtained an accelerated Bachelor of Science in Nursing from the University of Rochester, School of Nursing. Dr. Alcéna-Stiner's program of research aims to bring the bench, beyond the bedside and into behavior change. To this end she seeks to equip adolescents with bio behavioral immune health literacy as they transition towards adulthood with healthy lifestyles. Dr. Alcéna-Stiner is currently the Assistant Director of the Life Sciences Learning Center, where she has led HIV Vaccine Development outreach programs for middle school and high school students. She incorporated immunology, nursing, and community outreach into her emerging program of research in bio behavioral immune health literacy. Dr. Alcéna-Stiner leverages her skills as a nurse immunologist, to develop a program of research that integrates immune health literacy knowledge and behavioral health interventions in educational outreach programs. She is currently developing methods to promote HIV/STI centered immune health literacy in adolescent populations. Dr. Alcéna-Stiner will use REIDS funding to conduct research that integrates a bio behavioral approach to HIV/STI prevention using hands-on, minds-on community outreach activities that empower adolescents to identify behavioral practices to improve sexual health outcomes for adolescents as they transition into adulthood. Dr. Alcéna-Stiner's REIDS mentor is Dr. Barbara Guthrie.