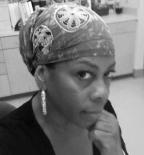 Roles:
Program Coordinator, The HIV Program for Children Youth and Families, Connecticut Children's Medical Center
Member, Executive Committee, CIRA
Member, Community Advisory Board, CIRA
Biography:
Danielle Warren-Dias is Program Coordinator of family support at the University of CT Health Center/CT Children's Medical Center Pediatric and Youth HIV Program. She has a BA in Urban Affairs, a Master of Science in Human Services and a post-graduate certificate in Public Health. Mrs. Warren-Dias also holds a license as a Human Service Board Certified Practitioner. She has been working with the women, infants, children and youth (WICY) living with HIV population for over20 years. Danielle has received a number of awards for her advocacy for HIV treatment and prevention as well as equal education for disadvantaged populations. She has been invited to, and participated in, two congressional briefings at our country's capital. One briefing was on the needs of Black woman living with HIV in America and the other was on comprehensive sex education for America's youth. Mrs. Warren-Dias has been interviewed and quoted in many articles concerning women, adolescents, and children living with HIV.