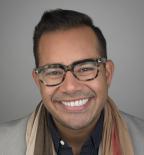 Roles:
Assistant Professor, Brown University School of Public Health
Biography:
Dr. David G. Zelaya (he/him/él) is an Assistant Professor (Research) at Brown University School of Public Health (SPH) within the Center for Alcohol and Addiction Studies (CAAS), Department of Behavioral and Social Sciences and a research fellow at Harvard Medical School within the Department of Psychiatry. His program of research focuses on examining health disparities, from an intersectionality and minority stress lens, among Black, Indigenous, and People of Color and sexual and gender minority communities and links to HIV risk, mental health, and substance use. Clinically, he is interested in providing culturally competent behavioral health services to historically underserved communities (e.g., Spanish-speaking Latinx people; sexual and gender diverse people).
Dr. Zelaya received his Ph.D. from Georgia State University in counseling psychology, he was a psychology resident at Harvard Medical School's Cambridge Hospital (part of the Latinx Mental Health Program, the Gender and Sexuality Clinic, and the Psychiatric Emergency Service), and he completed his fellowship within the Alcohol Research Center on HIV (ARCH) and CAAS at Brown SPH.
Dr. Zelaya is actively involved in service at the national and local level. For example, he is an appointed member of the APA workgroup on Journal Reporting Guidelines for Equity, Diversity, Inclusion, & Justice in Psychological Science, co-chair of the Early Career Psychologists Committee for the Massachusetts Psychological Association, he was a board member of the Massachusetts Psychological Association, and an APA Minority Fellow alumnus. He has been the recipient of numerous social justice awards, his research has been published in the flagship journals of his field, and he serves on the editorial board for the Psychology of Sexual Orientation and Gender Diversity journal. At Brown, Dr. Zelaya teaches Introduction to Health Disparities.