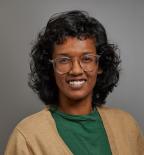 Roles:
Instructor, John T. Milliken Department of Medicine, Washington University School of Medicine
Former Postdoctoral Fellow, CIRA
Biography:
Dr. Muthulingam completed a combined public health and medicine program at UC Berkeley and UCSF, completed internal medicine training at Kaiser Foundation Hospital in Oakland, and infectious disease training at Yale. Her current research is in patient-centered interventions for increasing initiation and retention in treatment for opioid disorder and impact on addiction, HIV, and Hepatitis C outcomes, both in community settings and among incarcerated individuals anticipating transition to the community. Interests includes health disparities, patient preferences, decision aids, medication assisted therapy, implementation science, clinical trials, and health utilization.