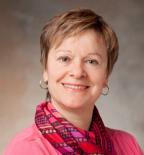 Roles:
Associate Research Scientist in Medicine (General Medicine), Yale School of Medicine
Director, Biostatistics Core, Veterans Aging Cohort Study (VACS)
Co-Director, ART Workgroup, Veterans Aging Cohort Study (VACS)
Co-Director, Risk Index Workgroup, Veterans Aging Cohort Study (VACS)
Biography:
Dr. Janet Tate joined the Veterans Aging Cohort Study (VACS) in July 2008 as a contract biostatistician. Since that time she has become a vital part of the VACS team and has completed her doctorate in Epidemiology at Harvard School of Public Health. Her dissertation was on prognostic models in HIV infection using VACS data -- a core analytic activity of our study. Having demonstrated her analytic and leadership ability, Dr. Tate was appointed to the Yale faculty in April 2011 and became the Director of the VACS Biostatistics Core In this role she supervises four master level statisticians and coordinates the efforts of several other doctoral level consultants. She represents VACS on three major international collaborations as the liaison to ART-CC, NA-ACCORD, and HIV Causal and presents our work in international venues including CROI and the International Workshop on HIV Observational Databases. In addition to her own work Dr Tate has contributed to the success of other projects. She has the ability to elucidate the ideas of clinicians to formulate a research question and analytical plan. She then packages statistical findings in a way that is readily interpretable, effectively using tables and graphs. Prior to joining VACS, Dr. Tate worked at Qualidigm for ten years doing study design and statistical analysis for quality improvement projects. In addition, Dr. Tate has done freelance statistical analysis for a variety of clients.