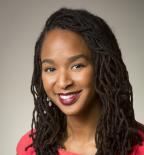 Roles:
Research Associate, Boston University School of Public Health
Former Fellow, Research Education Institute for Diverse Scholars (REIDS)
Biography:
As a behavioral research scientist, Dr. Abrams' work is conducted with the goal of utilizing culture as an avenue to better understand and reduce health disparities among women of African ancestry via health promotion. As the Director of the Global Community Health Promotion Network, Dr. Abrams conducts domestic and international research in collaboration with community based organizations. Importantly, Dr. Abrams is fiercely dedicated to sexual health promotion among women of African ancestry. She has been involved in a host of culturally relevant research and programmatic efforts related to chronic disease prevention, namely prevention of HIV/AIDS. Dr. Abrams also has expertise in translational community-based and engaged research, prevention science, quantitative and qualitative research, and intervention program development, adaptation, and evaluation. She has managed large-scale grant funded projects and secured university and federal funding to support HIV prevention research and programming with women of African ancestry, including funding from the National Institutes of Mental Health to investigate the role of sexual satisfaction in sexual risk behaviors with the ultimate goal of developing a novel pleasure focused HIV prevention intervention. She has also received funding to investigate women's recommendations for sexual health programming and to execute HIV prevention programming for Black women and girls. Dr. Abrams is also founder of SpiceXperience and co-founder of Research Unlimited.