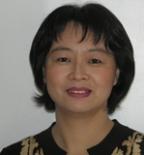 Roles:
Senior Research Scientist, The Institute for Community Research
Member, Interdisciplinary Research Methods Core, CIRA
(860) 278-2044 ext. 297
Biography:
Dr. JiangHong Li was trained in preventive medicine, health education, and community epidemiology. Her primary research interests include substance abuse, HIV/AIDS prevention, and social cultural aspects of risk behaviors. Dr. Li is the PI of Sociocultural Factors on Syringe Sharing and HIV Risks among Injection Drug Users in Guangdong, China. She also served as Co-PI or Co-Investigator on five other NIH funded domestic and international research studies. Dr. Li is especially interested in how risk behaviors are being shaped by Chinese indigenous social cultural concepts, such as guanxi (inter-personal relationships, social structure), mianzi (face, social norm), and renqing (favor, social exchange rules). More recently, she showed increasing interests in evaluating peer-delivered intervention using social network approaches, multi-level community intervention, and translational research.
Areas of Expertise:
Peer delivered intervention
Program assessment / evaluation