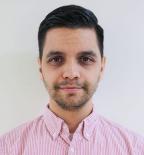 Roles:
Postdoctoral Associate, STAR Program, SUNY Downstate
Fellow, Research Education Institute for Diverse Scholars (REIDS)
Biography:
José E. Diaz, PhD, is a postdoctoral associate of the STAR Program at SUNY Downstate. His research aims to advance our understanding of sexual minority health through an intersectionality framework, with an emphasis on HIV- and substance use-related disparities. His current work examines sexual minority substance use and HIV-related risk behavior at the intersections of both social identities (e.g., race/ethnicity, gender) and physical locations (e.g., neighborhood environments). He received an award from the National Institutes of Health Loan Repayment Program to support this work. He completed his doctorate in Sociomedical Sciences at Columbia University in 2018. His dissertation examined whether cultural (e.g., acculturation), neighborhood (e.g., ethnic density), and syndemic factors (e.g., substance use) were associated with HIV-related risk among Latinx men who have sex with men. Prior to his doctoral training, Dr. Diaz taught high school level English in Spain through a model United Nations curriculum focused on population health and inequality.