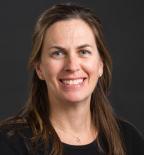 Roles:
Associate Professor of Epidemiology (Microbial Diseases), Yale School of Public Health
Director, HPV-IMPACT Project (Emerging Infections Program), Yale School of Public Health
Director, Development Core, CIRA
Deputy Director, Office of International Training, CIRA
Director, HPV Working Group at Yale
(203) 785-7834
Biography:
Dr. Niccolai's research is primarily focused on sexually transmitted infections (STI), including HIV. Her current research projects include a special focus on human papillomavirus. Her main area of interest is in public health practice and behavioral aspects of HIV/STI prevention. Specifically, she is interested in studying both individual- and partnership-level determinants of sexual risk behaviors, and population-based patterns of transmission dynamics. Her research includes a focus on the underserved populations of adolescents and women, and includes both domestic and international sites.
Linda Niccolai received her Sc.M. at Harvard School of Public Health and her Ph.D. at Tulane University. She is currently on the editorial boards for Sexually Transmitted Diseases and PLoS One and has served as an advisor and reviewer for Centers for Disease Control and Prevention conferences and grant programs. In 2004, she was the recipient of the Award for Excellence in Teaching.