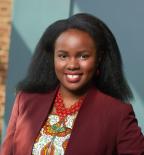 Roles:
Assistant Professor, Penn State College of Nursing
Fellow, Research Education Institute for Diverse Scholars (REIDS)
Biography:
Dr. Oluwamuyiwa "Winnie" Adebayo is an assistant professor who is passionate about improving the sexual health of youth through community-engaged research. Specifically, Dr. Adebayo's works revolve around sexual risk behaviors, access and use of sexual health promotion resources, and sexually transmitted infection (STI) testing. Some current projects/initiatives are: (1) Facilitators and Barriers to Self-Initiated STI Testing and Care Engagement among Youth; (2) Developing a Model for Self-Initiation of STI Testing among Youth; (3) The Sexual Health Needs and Protective Factors of Sexual and Gender Minorities.