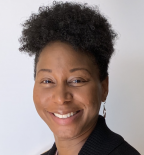 Roles:
Research Manager, National Diversity Council
Fellow, Research Education Institute for Diverse Scholars (REIDS)
Biography:
Dr. Portia Thomas is a nurse scientist and postdoctoral fellow at SUNY Downstate Health Sciences University in the Department of Medicine, Special Treatment and Research (STAR) program. Her research aims to decrease HIV disparities among racial and sexual minorities by reducing barriers to HIV prevention methods and behaviors. Current and upcoming studies are: 1) assessing the acceptability of telemedicine to provide HIV care services among Black and Hispanic men who have sex with men (MSM); 2) exploring pre-exposure prophylaxis (PrEP) decision-making among Southern MSM; and 3) increasing representation of minority populations in HIV interventional research. Dr. Thomas earned her Doctorate in Nursing Science from Kennesaw State University, WellStar School of Nursing and is a certified nurse educator.