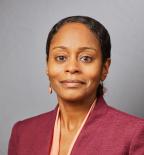 Roles:
Assistant Professor of Medicine, Emory University School of Medicine
Assistant Professor, Rollins School of Public Health, Emory University
Biography:
Saria Hassan, MD is an Assistant Professor of Medicine at the Emory School of Medicine. She is an implementation scientist with an interest in addressing the needs of individuals with chronic disease in humanitarian settings. These include humanitarian settings that result from natural as well as man-made disasters. Dr. Hassan received her MD from Harvard Medical School and subsequently completed residency training in Adult Medicine and Pediatrics at the Yale School of Medicine. She subsequently worked in primary care with vulnerable populations in a federally qualified health center in New Haven, CT before she discovered the power of implementation science in addressing health disparities in the US and world-wide.
Since 2016, Dr. Hassan has been conducting research in the Caribbean as part of the Yale Eastern Caribbean Health Outcomes Research Network (ECHORN). As part of ECHORN, she led the Implementation Core of an NIH/NIMHD funded U54 working on reducing the burden of non-communicable diseases (NCDs) through evidence-based interventions. When her colleagues and participants were severely affected by hurricanes Irma and Maria in 2017, Dr. Hassan recognized the need to improve our ability to manage NCDs during disasters. This work is a high priority in the Caribbean, an area of the world prone to natural disasters, but also in other parts of the world where NCD care disruption results from both natural and man-made disasters. Dr. Hassan now has an NHLBI-funded grant to move the field forward in understanding the system changes needed to address NCD needs in disasters.