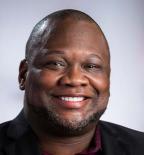 Roles:
Director of External Relations, HIV Vaccine Trials Network, Fred Hutch
Clinical Assistant Professor, Dept. of Global Health, University of Washington
Biography:
Dr. Wallace is a research epidemiologist, thought leader, and public health/business consultant. He serves as the Director of External Relations of both the COVID-19 Prevention Network (CoVPN) and the HIV Vaccine Trials Network (HVTN) based at Fred Hutch, a Staff Scientist in the Vaccine and Infectious Disease Division (Fred Hutch), a Clinical Assistant Professor in the Department of Global Health at the University of Washington, and Director of the Office of Community Engagement in the University of Washington/Fred Hutch Center for AIDS Research.
Dr. Stephaun E. Wallace is a public health/social justice leader with more than 20 years of sexual/public health experience with diverse populations, and more than 25 years of social justice/community mobilization experience, and more than two decades of senior-level non-profit administrative and management experience.
Dr. Wallace's work commitment, inquiry, and interests sit at the intersection of public health and social justice with a particular and intentional focus on the increasing the positive health outcomes of racial/ethnic, and gender and sexual minority groups in the United States and internationally, as well as HIV prevention and treatment focused on key populations, including same gender loving and transgender persons. He conducts research and programs that are accountable and responsive to key populations, that utilizes a population-centered approach and integrates the knowledge, assets, and strengths of the community into his efforts.
Research Interests: Socio-Ecological Approaches to Public Health Issues, Health Equity/Inequities, Community-Based Participatory Research, HIV/STI Prevention.
Population foci: African Americans, and Lesbian, Gay, Bisexual, Transgender and Queer Communities of Color, House-Ball Communities, and Historically Black Colleges and Universities.