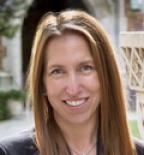 Roles:
Associate Professor of Psychiatry, Department of Psychiatry, Yale School of Medicine
Director, Family Violence Research and Programs, The Consultation Center
Member, Community Research and Implementation Core, CIRA
(203) 789-7645
Biography:
Dr. Sullivan's program of research centers on individual- and system-level factors that affect the mental and physical health of women victims of intimate partner violence (IPV). At the individual level, she conducts risk and protective factor research and is particularly interested in applying micro-longitudinal designs such as experience sampling methods and conducting research that informs the development of interventions to be implemented in community settings. Specifically, Dr. Sullivan focuses on advancing knowledge of IPV, posttraumatic stress, substance use, and HIV/sexual risk – as well as other co-occurring problems. At the system-level, she focuses on understanding the capacity of systems (e.g., criminal justice system) to meet the unique needs of IPV-exposed women. Dr. Sullivan is a scientific advisor to NIDA-funded T32 and R25 fellowships on substance abuse prevention and treatment research. She is a licensed psychologist who has extensive clinical experience with victims and offenders of IPV, providing services in a range of settings from inpatient units, intensive outpatient day programs, and outpatient clinics to domestic violence shelters, transitional living programs, and community programs.
CIRA Affiliated Projects:
Areas of Expertise:
Intimate partner violence
Criminal Justice System Response