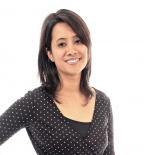 Roles:
Assistant Professor, Department of Communication, University of Missouri
Biography:
Dr. Yerina S. Ranjit is an assistant professor of Health Communication at the department of communication at the University of Missouri in Columbia. Dr. Ranjit'ss research program focuses on behavior change communication in the context of health. As a communication scholar, she has examined the role of mediated communication in improving health in the underserved populations. And as a trainee of public health, her line of inquiry was to understand the prevalence and enabling and disabling factors of diseases and health, both in the national and international contexts.
In her position as a post-doctoral associate at Yale University's Department of Internal Medicine (2016-2019), she coordinated two federally funded research projects: 1) A National Institute of Drug Administration (NIDA) study that assessed the feasibility and acceptability of using smart pillboxes to improve adherence to anti-retroviral therapy (ART) among people with HIV who are cocaine users, and 2) a SAHMSA funded project aims to improve HIV prevention among young men who have sex with men (YMSM) of color using social media. Dr. Ranjit's work has been published in Journal of Health Communication, AIDS and Behavior, AIDS Care, Journal of Computer Mediated Communication. She has also presented her work at various communication and public health conferences.
Her research interest lies in the interplay interpersonal, digital and mass communication on health behavior change among the underserved populations. Dr. Ranjit teaches undergraduate and graduate courses in Health at the University of Missouri.