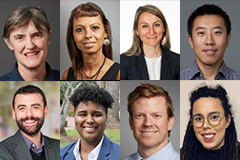 CIRA's current affiliation guidelines promote broad participation of scientists, trainees, HIV service providers, community members, and other institutional partners while maintaining scientific rigor and disciplinary diversity within CIRA's research portfolio. Among the services available to CIRA affiliates are peer review of grant applications and manuscripts, research-in-progress and methods consultations, identifying research collaborators, and solicitation of community input.
Since December 2021, CIRA affiliated 22 individuals from 12 institutions and 13 research projects. Click each link below to read more information about the affiliate or the project.
If you have interest in affiliating with CIRA, please contact Daniel Davidson (daniel.davidson@yale.edu).
Individuals:
Projects
Published: Sunday, December 4, 2022